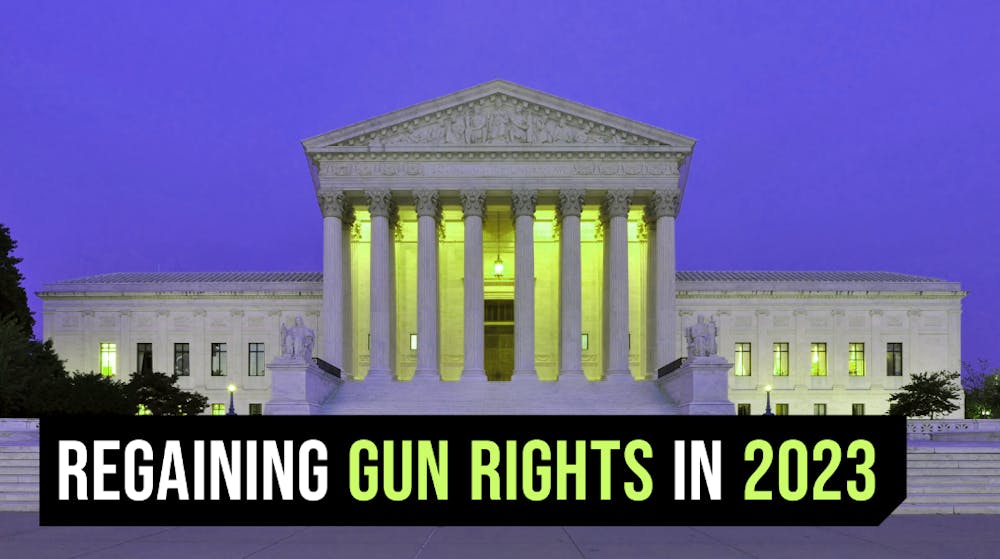 It's been a while since the last political newsletter, and in that time, a lot has happened in the many legislative sessions of all fifty States.
As we've discussed in these emails and on the T.REX podcast, there is a distinctly widening gulf between the states moving towards increased freedom and gun rights and those moving in the opposite direction.
For example, Texas and West Virginia have just legalized campus carry, and South Carolina and Florida are on the verge of passing various levels of constitutional and permitless carry.
Meanwhile, states like Illinois and Oregon are trying desperately to restrict the rights of their citizens. However, these legislative attempts to remove firearm freedoms still have a silver lining. They have generated courageous pushback, significant election losses for gun control candidates, and a number of court cases that will force the application of the Bruen decision to some of these constitutional issues.
For example, gun control efforts in Illinois are being overturned. And Oregon's magazine ban remains blocked. There are also several lawsuits filed to overturn the NFA and various ATF rule changes, mostly the one about the pistol braces. Many of these will be heard in March and April.
It will be fascinating to see what happens going forwards, but the trend is definitely in the direction of more gun freedoms being recognized by the courts and legislatively.
Here in Tennessee, we have several gun freedom bills going through various subcommittees and full committees right now, most of which will be heard next Tuesday, March 7th. T.REX ARMS will be there, and we would like to invite anyone in Tennessee who is available to show up at the Cordell Hull building at 11:30 am, and we will sit in on some of these committees and support these bills.
If you're available, click HERE and let us know you're coming. We will ensure we have signs and hats for you, and we look forward to spending time together encouraging the sponsors of these good bills.
Last year, we had lots of folks show up to support HB1735, which would have lowered the carry age in TN to 18. Unfortunately, while we made it out of the House, this bill was scuttled by later shenanigans in the legislative process and did not make it into law.
But earlier this year, a lawsuit filed by the Firearm Policy Center went before a federal court that ruled that preventing 18-year-olds from carrying handguns was denying them their Second Amendment rights. And so the freedom we failed to achieve last year legislatively has been regained judicially. The state of Tennessee will begin issuing carry permits to 18-year-olds in a few weeks.
This process is sometimes long, sometimes confused, and usually poorly covered in the media. Some of these bills accomplish great things, some accomplish very small things, and some accomplish small steps that end up being important footholds.
But the trend is moving inexorably in a clear direction, and we are extremely excited about that.
---
Nashville March 7th Event Details
Address:
Cordell Hull
425 John Lewis Way North
Nashville, TN 37243
Schedule:
11:30am - T.REX group will meet inside the Cordell Hull building.
12:00pm - The House Criminal Justice Subcommittee meets.
1:30pm - The House Civil Justice Subcommittee meets.
3:00pm - The Senate Judiciary Committee meets.
Committees may be meeting until 5:00 or 6:00 pm.

The following bills are currently on the agenda:
HB0994/SB0908
HB0510/SB0601
HB1044/SB1322
HB0977/SB0827
HB0037/SB0659
HB0746/SB1037
Note that you may bring a firearm to the Cordell Hull building, but you must declare your firearm at security, and they will want to check your permit. You cannot bring pepper spray. You cannot go into the capitol building with a firearm, but the committee meetings are just fine.